Ah Dreamforce, the most anticipated and stressful time of year for field marketing and demand generation teams. While it's exciting to plan amazing customer dinners, launch pre-event campaigns for RSVPs, and prepare your sales staff for amazing booth interactions, we understand you have your hands completely (utterly?) full right now.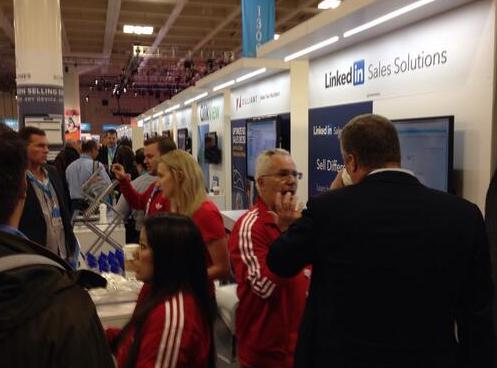 After chatting with various marketing teams from previous Dreamforce events, we've heard the feedback loud and clear …. drumroll please …. we are excited to introduce the CMC Dreamforce Kiosk Kit to give you one less thing to worry about.
Our kit includes the essential Dreamforce booth items you need as an easy to order collection. Simply order our pre-selected kit items below and move on with your more pressing Dreamforce marketing activities. No more worrying about staff shirts, booth SWAG, or collateral for Dreamforce. Of course, if you'd like to make a custom order we can support that too.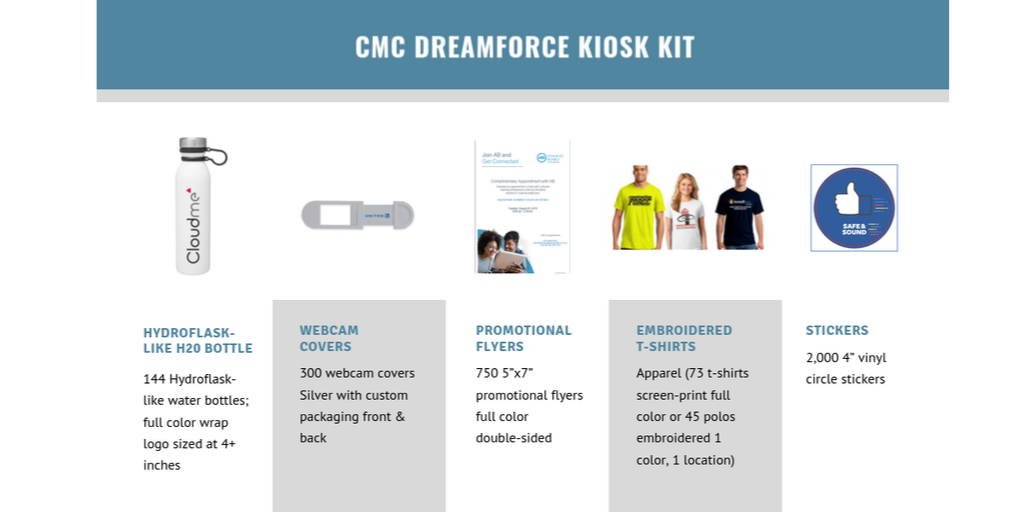 KIOSK KIT INCLUDES:
144 Hydroflask-like water bottles; full color wrap logo sized at 4+ inches
300 webcam covers; Silver with custom packaging front & back
750 5"x7" promotional flyers – full color/double-sided
Apparel (73 t-shirts screen-print full color or 45 polos embroidered 1 color, 1 location)
2,000 4" vinyl circle stickers
Cost: $5,500 for standard (non-custom) CMC Dreamforce Kiosk Kit
Terms & Conditions:

Must order before November 1, 2019 to allow for 10 business days prior to the event for printing and shipping.
Shipping and taxes are additional and not included in the Kiosk Kit cost.
For water bottles, allow 10 business days for single color imprint; full color requires additional lead-time.
Custom orders are available, contact us with your specs for a custom quote.
But wait, there's more. If you order our amazing CMC Dreamforce Kiosk Kit before November 1, 2019, we're offering a special P-Card Promotion. What is it? Look, we all love Pete from Purchasing but we understand it takes time and effort to set up new suppliers/vendors in your system. So for your first purchase with CMC, if you use your corporate purchasing credit card, a.k.a. p-card, we'll take 10% off your first order (on purchases up to $10,000). We're happy to work with Pete on your next order. 🙂
Simply fill out this form and our team will get back to you ASAP. Happy hunting marketing teams and long live Dreamforce!